In our library you may find any publication published by the KFO342 research unit. The publications are listed in reverse chronological order starting with the most recent on top.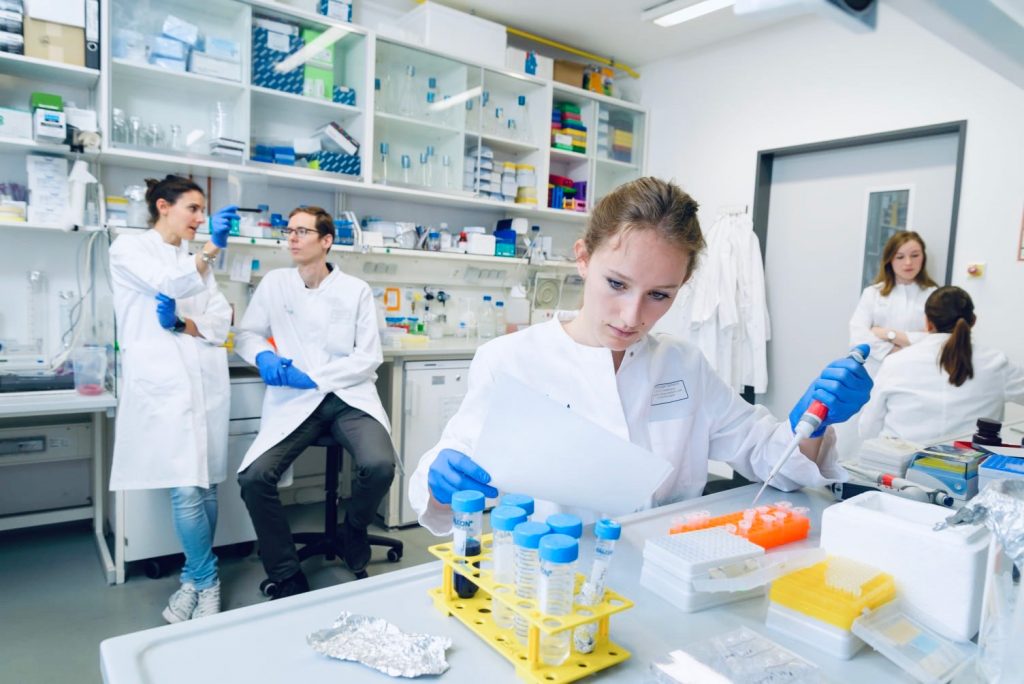 Patil A, Anhlan D,  Ferrando V, Mecate-Zambrano A, Mellmann A, Wixler V, Boergeling Y, Ludwig S, Phosphorylation of influenza A virus NS1 at serine 205 mediates its viral polymerase-enhancing function. J Virol. 2021 Jan 6;JVI.02369-20. ePub ahead of print
Küllmar M, Saadat-Gilani K, Weiss R, Massoth C, Lagan A, Nunez Cortes M, Gerss J, Chawla LS, Fliser D, Meersch M, Zarbock A, Kinetic Changes of Plasma Renin Levels Predict Acute Kidney Injury in Cardiac Surgery Patients. Am J Respir Crit Care Med. 2020, Dec 15. ePub ahead of print
Wilden JJ, Hrincius ER, Niemann S, Boergeling Y, Löffler B, Ludwig S, Ehrhardt C, Impact of Staphylococcus aureus Small Colony Variants on Human Lung Epithelial Cells with Subsequent Influenza Virus Infection. Microorganisms. 2020, 8(12), 1998.
Masemann D, Ludwig S, Boergeling Y, Advances in Transgenic Mouse Models to Study Infections by Human Pathogenic Viruses. Int. J. Mol. Sci. 2020,21(23) 9289.
Alon R, Sportiello M, Kozlovski S, Kumar A, Reilly EC, Zarbock A, Garbi N, Topham DJ, Leukocyte trafficking to the lungs and beyond: lessons from influenza for COVID-19. Nat Rev Immunol. 2020 Nov 19 : 1–16. ePub ahead of print

Zarbock A, Küllmar M, Kindgen-Milles D […] Bagshaw SM, Kellum JA, Meersch M. Effect of Regional Citrate Anticoagulation vs Systemic Heparin Anticoagulation During Continuous Kidney Replacement Therapy on Dialysis Filter Life Span and Mortality Among Critically Ill Patients With Acute Kidney Injury: A Randomized Clinical Trial. JAMA. 2020 324(16):1629-1639.

Boff L, Schreiber A, da Rocha Matos A, Del Sarto J, Brunotte L […] Ludwig S. Semisynthetic Cardenolides Acting as Antiviral Inhibitors of Influenza A Virus Replication by Preventing Polymerase Complex Formation. Molecules. 2020 Oct 21;25(20):E4853

Nadim MK, Forni LG, Mehta RL, Connor MJ Jr, Liu KD, Ostermann M, Rimmelé T, Zarbock A […] Kellum JA. COVID-19-associated acute kidney injury: consensus report of the 25th Acute Disease Quality Initiative (ADQI) Workgroup. Nat Rev Nephrol. 2020, 16: 747-764.

Rovas A, Osiaevi I, Buscher K, Sackarnd J, Tepasse PR, Fobker M, Kühn J, Braune S, Göbel U, Thölking G, Gröschel A, Pavenstädt H, Vink H, Kümpers P. Microvascular dysfunction in COVID-19: the MYSTIC study. Angiogenesis. 2020 Oct 14:1-13. ePub ahead of print

Kane-Gill SL, Meersch M, Bell M. Biomarker-guided management of acute kidney injury. Curr Opin Crit Care. 2020, 26(6):556-562.

Ostermann M, Zarbock A, Goldstein S […] Shaw AD, Kellum JA, Ronco C. Recommendations on Acute Kidney Injury Biomarkers From the Acute Disease Quality Initiative Consensus Conference: A Consensus Statement. JAMA Netw Open. 2020 Oct 1;3(10)e2019209.

Schloer S, Brunotte L, Goretzko J, Mecate-Zambrano A, Korthals N, Gerke V, Ludwig S, Rescher U. Targeting the endolysosomal host-SARS-CoV-2 interface by clinically licensed functional inhibitors of acid sphingomyelinase (FIASMA) including the antidepressant fluoxetine. Emerg. Microbes Infect. 2020, 9(1): 2245-2255.

Meersch M, Zarbock A. Preemptive renal replacement therapy in critically ill patients? Ann. Transl. Med. 2020;8(16):978.
Küllmar M, Zarbock A, Engelmann DT, Chatterjee S, Wagner NM. Prevention of Acute Kidney Injury. Crit. Clin. 2020, 36(4):691-704.

Schreiber A, Boff L, Anhlan D, Krischuns T, Brunotte L, Schuberth C, Wedlich-Söldner R, Drexler H, Ludwig S. Dissecting the mechanisms of signaling-triggered nuclear export of newly synthesized influenza virus ribonucleoprotein complexes. PNAS. 2020 July 14;117(28):16557-16566.
Margraf A, Germena G, Drexler H, Rossaint J, Ludwig N, Prystaj B, Mersmann S, Thomas K, Block H, Gottschlich W, Liu C, Krenn P, Haller H, Heitplatz B, Meyer zu Brickwedde M, Moser M, Vestweber D, Zarbock A. The integrin linked kinase is required for chemokine-triggered high affinity conformation of neutrophil ß2-integrin LFA1. Blood. 2020, 136(19):2200-2205.

Margraf A, Cappenberg A, Vadillo E, Ludwig N, Thomas K, Körner K, Zondler L, Rossaint J, Germena G, Hirsch E, Zarbock A. ArhGAP15, a RacGAP, acts as a temporal signaling regulator of Mac-1 affinity in sterile inflammation. J Immunol. 2020, 205(5): 1365-1375.
Otto M, Bucher C, Liu W, Müller M, Schmidt T, Kardell M, Driessen MN, Rossaint J, Gross ER, Wager NM. 12(S)-HETE mediates diabetes induced endothelial dysfunction by activating intracellular endothelial cell TRPV1. J Clin Invest. 2020 Sep 1;130(9):4999-5010.
Meersch M, Küllmar M, Pavenstädt H, Rossaint J, Kellum JA, Martens S, Klausmeyer P,  Schmidt EA, Kerschke L, Zarbock A. Effects of different doses of remote ischemic preconditioning on kidney damage among patients undergoing cardiac surgery – a single-center mechanistic randomized controlled trial. Critical Care Medicine. 2020 Aug;48(8):e690-e697.

Kehl A, Kuhn R, Detzner J, Steil D, Müthing J, Karch H, Mellmann A. Modeling native EHEC outer membrane vesicles by creating synthetic surrogates. Microorganisms. 2020 May 6;8(5):E673.
Braun LJ, Stegmeyer R, Schäfer K […] Kempe B, Nottebaum AF, Vestweber D. Platelets docking to VWF prevent leaks during leukocyte extravasation by stimulating Tie-2. Blood. 2020 May 5.
Schwierzeck V, König JC, Kühn J, Mellmann A […] Konrad M, Kaiser T, Kampmeier S. First reported nosocomial outbreak of severe acute respiratory syndrome coronavirus 2 (SARS-CoV-2) in a pediatric dialysis unit. Clin Infect Dis. 2020 Apr 27.
Laure M, Hamza H, Koch-Heier J […] Pleschka S, Ludwig S, Planz O. Antiviral efficacy against influenza virus and pharmacokinetic analysis of a novel MEK-inhibitor, ATR-002, in cell culture and in the mouse model. Antiviral Res. 2020 Apr 15;178:104806.
Correa-Martínez CL, Kampmeier S, Kümpers P […] Pavenstädt H, Ludwig S, Mellmann A. A pandemic in times of global tourism: superspreading and exportation of COVID-19 cases from a ski area in Austria. J Clin Microbiol. 2020 Apr 3.
Küllmar M, Weiß R, Ostermann M […] Wempe C, Meersch M, Zarbock A. A Multinational Observational Study Exploring Adherence With the Kidney Disease: Improving Global Outcomes Recommendations for Prevention of Acute Kidney Injury After Cardiac Surgery. Anesth Analg. 2020, 130(4), 910-916.
Ludwig S, Zarbock A. Coronaviruses and SARS-CoV-2: A Brief Overview. Anesth Analg. 2020 Mar;31.
Fischer-Riepe L, Daber N, Schulte-Schrepping J […] Schultze JL, Roth J, Barczyk-Kahlert K. CD163 expression defines specific, IRF8-dependent, immune-modulatory macrophages in the bone marrow. J Allergy Clin Immunol. 2020 Mar 19. 
Schreiber A, Liedmann S, Brunotte L, Anhlan D, Ehrhardt C, Ludwig S. Type I interferon antagonistic properties of influenza B virus polymerase proteins. Cell Microbiol. 2020 Feb;22(2):e13143.
Liu W, Eczko JC, Otto M, Bajorat R, Vollmar B, Roesner JP, Wagner NM. Toll-like receptor 2-deficiency on bone marrow-derived cells augments vascular healing of murine arterial lesions. Life Sci. 2020 Feb 1;242:117189.
Lindemann O, Rossaint J, Najder K, Schimmelpfennig S, Hofschröer V, Wälte M, Fels B, Oberleithner H, Zarbock A, Schwab A. Intravascular adhesion and recruitment of neutrophils in response to CXCL1 depends on their TRPC6 channels. J Mol Med (Berl). 2020 Jan 16.
Duong CN, Nottebaum AF, Butz S, Volkery S, Zeuschner D, Stehling M, Vestweber D. Interference With ESAM (Endothelial Cell-Selective Adhesion Molecule) Plus Vascular Endothelial-Cadherin Causes Immediate Lethality and Lung-Specific Blood Coagulation. Arterioscler Thromb Vasc Biol. 2020 Feb;40(2):378-393.
Drost CC, Rovas A, Kusche-Vihrog K, Van Slyke P, Kim H, Hoang VC, Maynes JT, Wennmann DO, Pavenstädt H, Linke W, Lukasz A, Hesse B, Kümpers P. Tie2 Activation Promotes Protection and Reconstitution of the Endothelial Glycocalyx in Human Sepsis. Thromb Haemost. 2019 Nov;119(11):1827-1838.
Braun LJ, Zinnhardt M, Vockel M, Drexler HC, Peters K, Vestweber D. VE-PTP inhibition stabilizes endothelial junctions by activating FGD5. EMBO Rep. 2019 Jul;20(7):e47046.
Matos ADR, Wunderlich K, Schloer S […] Matera N, Ludwig S, Brunotte L. Antiviral potential of human IFN-α subtypes against influenza A H3N2 infection in human lung explants reveals subtype-specific activities. Emerg Microbes Infect. 2019;8(1):1763-1776.